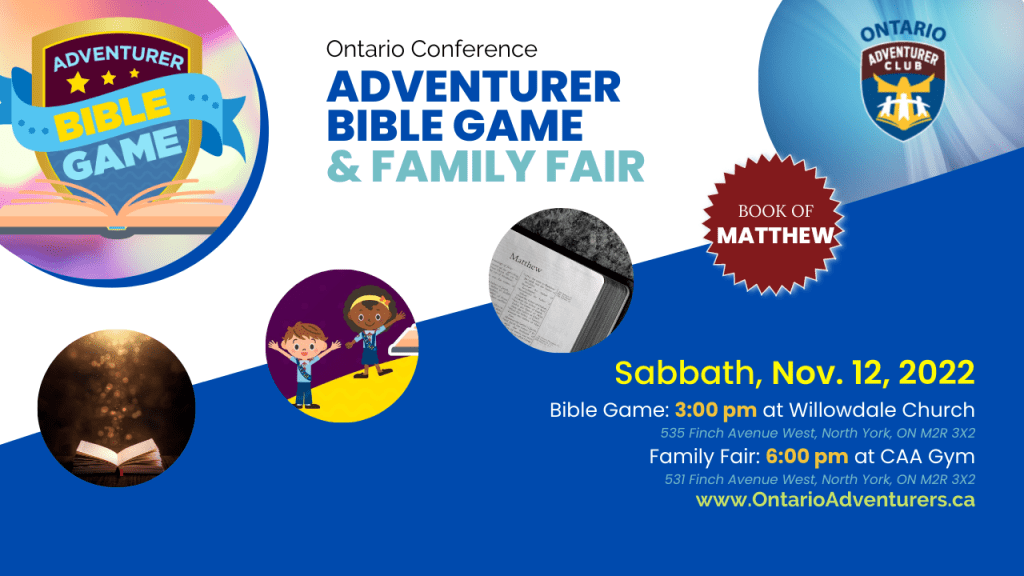 Adventurer Bible Game & Family Fair 2022
This is to invite you and your club to take part in the upcoming Adventurer Bible Game (ABG) and Family Fair to be held on Sabbath, Nov. 12, 2022 at 3:00 pm at Willowdale Seventh-day Adventist Church located at 535 Finch Avenue West, North York, ON M2R 3X2. Please register your ABG team(s) – both your Adventurer team and parent team – no later than Oct. 31, 2022. Registration fee for both Adventurer and Parent teams will be $30.00 only.    
Book to study: MATTHEW.

Immediately after the ABG event at Willowdale Church, we will transition at 6:00 pm to the Crawford Adventist Academy gym for the Adventurer Family Fair. Admission is free but registration is required. Each district will be assigned a Disciple of Jesus that they will feature through their creative booth/display. Please check with your Adventurer Coordinator for details. Kindly bring your own folding table and chairs for your booth. 
Here are the direct links to register for the Adventurer Bible Game and Family Fair:
Download the Adventurer Bible Game booklet by clicking the image below: