Adventurer Leaders' Convention 2020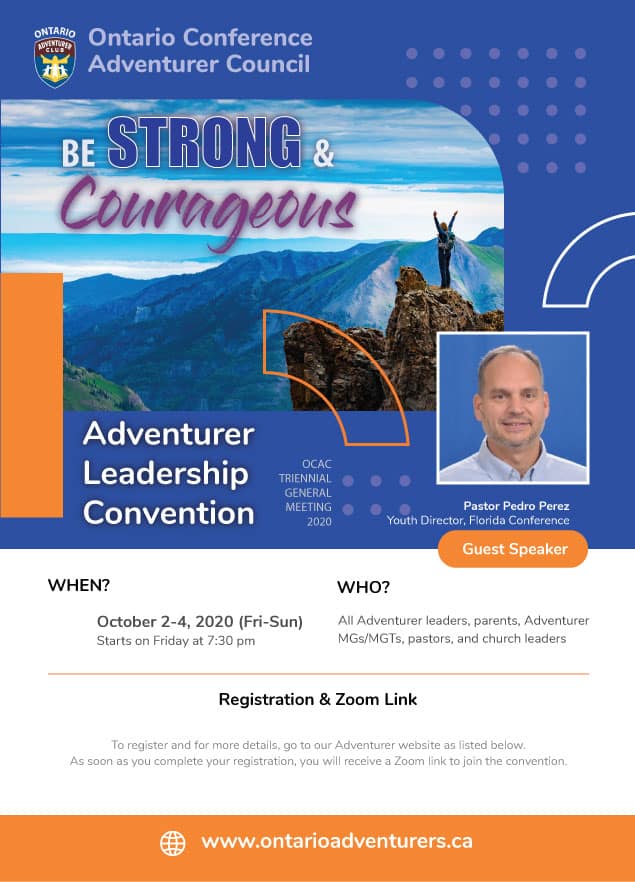 The Ontario Conference virtual Adventurer Leadership Convention and Triennial General Meeting will be held on Oct.2-4, 2020 (Friday to Sunday) starting at 7:30 pm next Friday. The chosen theme is entitled, "BE STRONG AND COURAGEOUS" with Pastor Pedro Perez, Florida Conference Youth Director, as guest speaker.
Schedule is as follows:
* Friday, Oct. 2 – 7:30-8:30 pm
* Sabbath, Oct. 3 – 10:00 AM-12:00 PM
* Sabbath, Oct. 3 – 3:00-5:00 PM
* Sunday, Oct. 4 – 10:00 AM-1:00 PM
Each club is to choose 3 voting delegates for Sunday's meeting where proposals will be presented for the approval of all delegates. Regular attendees can participate in the deliberation, but only the voting delegates will be allowed to vote.
Here's the link to register:
https://zoom.us/meeting/register/tJUqf-iorjwiH9dlgY9E3fdDCKxhLHLtmgb2
After registering, you will receive a confirmation email containing the ZOOM link to join the meeting. If you don't receive a confirmation email from Zoom, either you misspelled email address or the confirmation email is in your junk mail.
Convention materials such as the Nominating Committee report, proposed amendments to the Ontario Conference Adventurer Council Terms of Reference, etc. will be sent directly via email to those who will register.